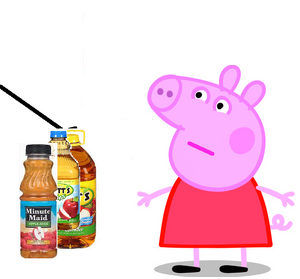 DUN DUN DUNNN! this is the dramatic Peppa and the apple juice! wanna know what happens? well, get to reading!!
transcript (yea. i gave up..)
peppa is in the back of a van-truck-thing. suddenly, someone carries her out of the van-truck-thing and she is thrown into a room
a mysterious person slowly walks up wearing a hood covering their face (so totally not cliche XD)
le mysterious person: HELLUU YOUNG ONE! STATE UR NAME!!!
Peppa: um... Bonquisha. yea. Bonquisha la Apple juice!
mysterious: well then, ms. Bonquisha. you'll be delighted to know that your friend Pedro helped us discover magical beings! 
Peppa: Pedro's a jerk -_-
mysterious: now, to figure out how your magical powers work, you will be experimented on until we get the answer!
Peppa: really? OH SHNAP!
mysterious: now, GIVE US TEH ANSWUR TO UR POWERS OR SUFFURR!!! 
Peppa: alright! alright! if i tell you, will you please shut up?
myserious:...okay o3o
Peppa:..i'm dreaming. this is my dream land. and you're just another part of my dream.
mysterious: oh really? well then. ~100 other mysterious ppl walk out of the shadows~ we have a favor for you. (STILL TOTALLY NOT CLICHE)
Peppa: what's that?
mysterious: ....you have to wake up on your own.
Peppa: what!? then all of this will disappear!
mysterious: exactly. but your reward is..this. ~holds up 50 gallons of apple juice~
Peppa: HOLY SHNAP! :D
mysterious: yes. 50 whole gallons of PUUUURE apple juice. it will be next to your bed when you wake up. 
Peppa: oh mannnn. wake up and destroy a world, or not wake up and don't get the apple juice...
mysterious: MS. BONQUISHA!!! YOU MUST CHOOOOOSE!
Peppa:......i choose......~punches mysterious in the face~
mysterious: OH SHNAAAAAAP!!! ~hood falls off~ 
Peppa:........POLLY PARROT!?!??!?!?!!?!?!!?!?!?!?!?!!?!?!?!?!?!?!!!!111!?!?!!?!?!?
Polly: it's true. 
Peppa: BUT WHY!?!?!?
Polly: idk. i was bored. 
Peppa: anyways, sorry for punching you in the face, your not gonna tell Granny pig, right?
Polly: nah. we cool.
Peppa: sweet :D 
Polly: so what do you choose anyway? 
Peppa: i decided, i'm not gonna wake up!
Polly: oh. that's cool. cuz mummy pig's about to wake you up anyway!
Peppa: sweet. peace out, polly! ~fades out~
Polly: i luv u
Mummy pig: Peppa! wake up! 
Peppa: ?? 
Mummy: good. you're awake. i brought you some apple juice.
Peppa: FUCK YEA! ~jumps out of bed~
Mummy: PEPPA! WHAT'S GOTTEN INTO YOU!?
deleted scene ending
Mummy pig: Peppa! wake up right now!!!!
Peppa: ??
Mummy: i got a call from Grandpa pig that you punched Polly in the face!
Polly: (from out the window) hey. i didn't tell Granny pig!
Peppa:FFFFFFFFFFFFFFFFFFFFFFFFFFFUUUUUUUUUUUUUUUUUUUUUUUUUUUUUUUUUUUUUUUUUUUUUUUUUUUUUUUUUUUUUUUUUUUUUUUUUUUUUUUUUUUUUUUUUUUUUUUUUUUUUUUUUU!!!!!!!!!!!!!!!!!!!!!!!!!!
Ad blocker interference detected!
Wikia is a free-to-use site that makes money from advertising. We have a modified experience for viewers using ad blockers

Wikia is not accessible if you've made further modifications. Remove the custom ad blocker rule(s) and the page will load as expected.