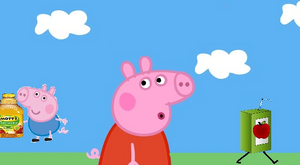 you thought it was over? >:) anywayz, Peppa is beginning to realize that everything from the apple juice dreams are coming true! (and yes, everything is happening out of order)
transcript 
peppa is eating supper with mummy pig. 
Peppa: ~slurps spaghetti~ mummy. why doesn't our spaghetti ever have sauce? 
Mummy pig: i really don't know. and i really don't care. 
~the front door opens~
~daddy pig arrives in handcuffs and a police dude behind him~
Mummy pig: DARN IT, DADDY PIG! NOT AGAIN!!
Police dude: we found this man stealing chocolate biscu-...~stares at peppa~...miss. have i seen you before?
Peppa:...wanna come to our...apple juice party?
Police dude:.....totally. 
Peppa: OMIGOSH IT'S YOOOOUUU!!!! EEEEEEEEEEEEEEEEEEEEE!!! :'D
Daddy pig: um...did i miss something?
Police dude: your daddy is free to go! ~leaves~
Peppa: OMIGOOOOO-...that was weird. mummy. may i be excused?
Mummy pig: of course: 
Peppa: ~walks outside~ wasn't the apple juice party just a dream? ~almost steps on something~ 
~sees that it's an apple juice box~ 
Peppa: hm? what's this doing here? ~reaches for box~
Apple juice: NUH UH, GURL! I'M MY OWN MAAAN!!! ~hops away~ 
Peppa: whaaa!? i think i need to lie down...or..never lie down again. ~goes back inside~
Mummy pig: peppa? are you feeling ill? 
Peppa: I'M FINE. I'M JUST TIRED!!!! 
Mummy: good. bcus we're going to granny and grandpa pig's house! 
Peppa: YAAAAAAAAY! that'll get my mind off this. 
~in the car~ 
Peppa: DRIVE INTO THE PUDDLE! DRIVE. INTO. THE. PUDDLE!!! >:U 
Mummy pig: no peppa. 
Peppa: PEPPA DO IT HERSELF!! ~grabs the wheel and drives off the road and into a puddle~ AAAAAAAAAAAAAH!!!!!
Mummy pig: Peppa! you're a jerk!
Peppa: YEEEAAAAA!!! PEPPAAAAAA!!! >:D
~at Granny and Grandpa's house~ 
Peppa: grannyyyy~! granpaaa~! we're here!
Granny: peppa...i think something's wrong with Polly. 
Peppa: send her in. 
Granny: ~shows her Polly Parrot~ 
Polly parrot is wearing a black cloak with a hood covering her face
Polly: HELLUUU YOUNG ONE! STATE UR NAME!!
Peppa: Polly. i know that's you. 
Polly: aww.
George: ~opens a bottle of apple juice~
~suddenly granny pig's front lawn looks like a party~
everyone: WE ALL THE WAY TURNED UP!!!
~everyone is wearing tutus and apple juice is raining from the clouds~ 
Peppa: alright. something weird is SO going on. but who cares!? ~puts on tutu and starts dancing~
~peppa is taken away by secret agent dudes~
Peppa: oh yea. this part. CURSE YOU, PEDRO THE PLATYPUS!!!!
trivia
Peppa's a jerk XD
George doesn't have any lines in this episode
this is only episode of Peppa and the apple juice where no one said "Oh shnap"
Ad blocker interference detected!
Wikia is a free-to-use site that makes money from advertising. We have a modified experience for viewers using ad blockers

Wikia is not accessible if you've made further modifications. Remove the custom ad blocker rule(s) and the page will load as expected.