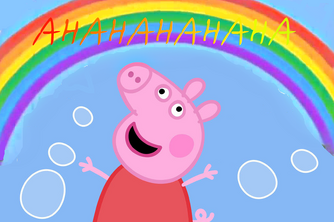 When shep stops being friends with peppa and jumps out a window, her life turns a little sideways...OKAY A LOT SIDEWAYS
sequel : Peppa goes nuts 2
TURN FOR WHAT
Mummy pig and Daddy pig are at home alone in the sitting room
Daddy: ..so. the kids are at the playgroup. ;)
Mummy: yes. it's very quiet without them.
Daddy: how about we go up to our bedroom and--
~peppa busts through the wall saying an group of a's~
Peppa: AAAAAAAAAAAAAAAAAAAAAAAAAAAAAAAAAAAAAAAAAAAAAAAAAAAAAAAA
Mummy: peppa! what happened!?
Peppa: it was Shep! IT WAS AWFUL!!
Daddy: what did he do WHAT DID HE DO!?
Peppa: we-we-we-we-...WE'RE FRIENDS *turns into cow* MOOOO!!!!!!!
Mummy: but it's happened before. why are you so upset this time?
Peppa: *turns back to pig* HE SAID HE NEVER WANTS TO SEE ME AGAIN!!! ~runs into her bedroom to a some more~
Mummy: pour piggy :(....wait a minute. SHE LEFT GEOOOOOOOOOOOOOOOOOOOOOOOOOOOOOOOOOOOOOOOOOOOOOOOOOOOOOOOOOOOOOOOOOOOOOOOOOOOOOOOOOOOOOOOOOOOOOOOOOOOOOOOOOOOOOOOOOOOOOOOOOOOOOOOOOOOOOOOOOOOOOORGE!
in peppa's room
Peppa:AAAAAAAAAAAAAAAAAAAAAAAAAAAAAAAAAAAAAAAAAAAAAAA
Daddy: peppa? i brought you some chocolate biscuts.
Peppa: ...............................erm..................
Daddy:..peppa??
Peppa:.....................................................................
Daddy: PEPPA YOU BETTA ANSWER ME RIGHT OR I'LL--
Peppa: SOMETIMES I JUST DON'T CARE!! ~jumps out her window~ AHAHAHAHAHHAHAHAHAHAHAHA! HAHAHAHAHAH......~loud crash outside~
Daddy:...ohh shnap
Peppa: (from outside) IT DOESN'T WORK WHEN YOU SAY IT.
she of course, had to go to the hospital
peppa is asleep in a hospital bed
George: PEPPA PLEASE WAKE UP!!!!! I CAN'T LOSE YOU!!!!! WHO WILL I JUMP IN MUDDY PUDDLES WIIIIIIIITH!?!?!?! ~cries hysetrically~ D':
Peppa: ~wakes up~..george? were you talking?
George: I MEAN-- dine- saw! grrr!
Peppa: ~jumps out of the bed~ GEORGE, YOU SILLY LITTLE PIG! ÈÈÈÈÈÈÈÈÈÈÈÈÈÈÈÈÈÈÈÈÈÈÈÈÈÈÈÈÈÈÈÈÈÈÈÈÈÈÈÈÈÈÈÈÈÈÈÈÈÈÈÈÈÈÈÈÈÈÈÈÈÈÈÈÈÈÈÈÈÈÈÈÈÈ!!!!
Dr brown bear: ~runs into the room~ it's a miracle!
Peppa: eh?
Dr: when you jumped, you landed on your car, the car exploded, and you broke all your bones! are you okay?
Peppa: you might wanna check again. BECAUSE ~backflips out the door~
George: OH PEPPA THANK GOODNESS!! ~slides on a rainbow~
Peppa: ~eats the rainbow~
George: ~lands in a muddy puddle~ oof! what was that for?
Peppa: I need my nutrients! :DD ~flies into a cloud~
George: peppa gets nutrients from rainbows now!?....COOL
back at the pig house
~bed squeaking can be heard from mummy pig and daddy pig's room~

Mummy and daddy: ~both jumping on the bed~ WEEEEEEEEE!!!!!!!
Peppa: ~busts through the wall~ I HAVE RETURNED!!!
Daddy: SERIOUSLY PEPPA? AGAIN!?
Peppa: HAHAHAHA! ~flies across the room~
Mummy: you can fly now!?!?
Peppa: YOU BETCHA~! ~walks on the ceiling~
Mummy and george: THIS IS AMAZING!
Daddy:....we need the old peppa back
Peppa: I AM the old peppa, just with new features!
George: This. is. cool.
Mummy: OK then...
Trivia
peppa can fly, walk on ceilings, she gets her nutrients from rainbows, AND all of her bones are broken. yea. just let all that crazyness sink in..

if you go to school, you see your friends.

when you see your friends, you get in a flight.

when you get in a flight, you stop being friends.

when you stop being friends, you jump out your bedroom window.

when you just out your bedroom window, you break all your pigs.

when you break all your pigs, you go to the hospital,

when you go to the hospital, you go totally crazy.
Ad blocker interference detected!
Wikia is a free-to-use site that makes money from advertising. We have a modified experience for viewers using ad blockers

Wikia is not accessible if you've made further modifications. Remove the custom ad blocker rule(s) and the page will load as expected.