Suzy returns...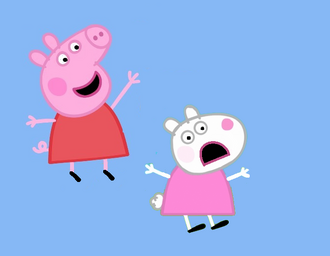 Previous: Peppa goes nuts
Next: Peppa goes nuts 3
LA LA LA LA LA LA LA LA
Mummy pig and George are having fun with new peppa.
Mummy pig: ~throws rainbows at peppa~ catch!
Peppa: ~catches the rainbows in her mouth~ nom nom!
Mummy and george: WOOOOOOO!!!
Peppa: ~ hears shouting from outside ~
Peppa: ALRIGHT GUYS I'LL BE RIGHT BACK ~flies through the roof like Iron man~ WEEEEEEE!!!!!!!!!! :D
Mummy pig: what a lovely old girl!
George: ~giggles~
Suzy sheep: (from outside) let me go! ~screams~
Daddy pig: (from outside too) IT'S FOR YOUR OWN GOOD!
Mummy: oh no ~facepalms~
Daddy: ~walks into the house with Suzy~ PEPPA! GET BACK HERE RIGHT NOW!!
Peppa: ~flies through the roof again~ you called? :D
Daddy: look who came to see youuu! say hi, Suzy.
Suzy:...........hey.......
Peppa: SUZYYY! WHAT A PLEASANT SURPRISE!!
Suzy: really?
Peppa: no not really >:c you hurt my feelings and made me jump out my window!
Suzy: well, i'm sorr--
Peppa: but I'm doing WAYYY better than I ever have! so I guess I should thank you! come, let's talk outside!
Suzy: oh thank goodness! i thought you were mad.
~they both walk outside~
Peppa: hey wanna see something cool!?
Suzy: sure :)
Peppa: ~picks up suzy and flies up super fast~
Suzy: OMGOMGOMGOMGOMGOMGOMG WHAT ARE YOU DOING!?
Peppa: let's be crazy buddies together!
Suzy: what!? but I don't wanna--
Peppa: ~drops suzy~ be free, little sheep! BE FREEEEE!!!!! oh, they grow up so fast. :'D lol
Suzy:AAAAAAAAAAAAAAAAAAAAAAAAAAAAAAAAAAAAAAAAAAAAAAAAAAAAAAAAAAAAAAAAAAAAAAAAAAAAAAAAAAAAAAAAAAAAAAAAAAAAAAAAAAAAAAAAHHHHHHHHHHHHHHH!!!!!!!!!!!!!!!!!!!!!!!!!!!!!!!!!!!!!!!!!!!!!!!!!!!!!!!!!!!!!!!!!!!!!!!!!!!!!!!!!!!!!!!!!!!! ~lands on a car~ ~car explodes~ XP
Peppa: bullseye! 
Suzy is now in the hospital
Peppa: ♫SUZYYYY!♫ rise and shine sleepyhead! get up from that bed! :D
Dr brown bear: she can't.
Peppa: WHAT!?! <\3 why not!? I did!
Dr: what happened to you was unnatural and baffled doctors everywhere. Suzy however, will have to stay in this bed for 12 months.
Peppa: OH MY POOR SUZY! I'M SORRY I DID THIS TO YOU! ~hugs her and cries~
Suzy:.........ow.
Peppa: ~sniffles~..I'm over it! do you have any rainbows I could eat? I'm kinda peckish.
Dr: like I said. baffled doctors everywhere. but I do have some skittles.
Peppa: I'll take what I can get ~pours the skittles in her mouth~
Peppa: Do you have any more?
Dr brown bear: Sorry. I don't have any more
Peppa: Oh. Well, gotta go! ~ flies out ~
Please continue.
trivia
soo peppa almost killed suzy XD
its finn the human get yo facts right

i changed it. mrs bossy pants!