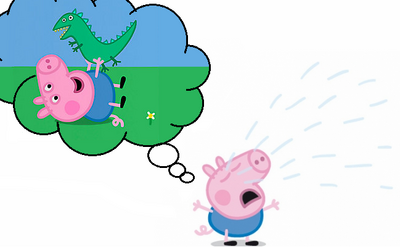 12 months later,
Peppa
is still totally nuts.
previous: Peppa's in jail
next: Peppa goes nuts 6
CRACK
Peppa: GEORGE! GET OVER HERE! 
George: ~runs to peppa~ yes ma'am?
Peppa: Mr dinosaur says that your relationship is on the rocks.
George: w-wait. y-y-you know about us!? D:
Peppa: everyone knows, silly little pig! ~whispers~ everyooooooooone
George: oh jeez ~looks down~
Peppa: anywhozies, Mr dinosaur is leaving you for someone else.
George:....~all his memories with Mr dinosaur flash before his eyes~
Peppa: hey. are you okay?
George: I HAVE TO GO! ~runs away~
Peppa: what a strange pig. ONWARD, SPARKLES THE UNICORN!
Sparkles: ~rises out of the floor and carries Peppa away~
Peppa: WOOOOOOOOOOOOOOOOOOOO!!!!!!!!!!!!!!!!!!!!!!!!!!!111
...meanwhile at the Peppatown Hospital...
Suzy Sheep: Zzzzzzzzzzzzzzz............
Dr Brown Bear: SUZY WAKE UP OMG THE DAY IS FINALLY HERE!!
Suzy: Zzzzzzzzzzzzzzzzzzzzzzzzzzzzzzzz.....................
Dr Brown Bear: Suzy, wake up!!
Suzy: Zzzzzzzzzzzzzzzzzzzzzzzzzzzzzzzzzzzzzzzzzzzzz.........................
Dr Brown Bear: Why isn't that Suzy waking u--.....Oh no!.. ~runs out of her hospital room~ HAVE YOU GUYS BEEN REMEMBERING TO FEED SUZY?
Everyone: YESSS
Dr Brown Bear: oh thank goodness. ~goes back in~ Suzy, wake u--
~Suzy is outside~
Suzy: I'M GONNA KILL YOU, PEPPA!!!!
2 weeks later...............
Peppa: YO PEDRO. GET ME SOME WATER!
Pedro: But i just ate a sesame seed cracker!!!!!!! D':
Peppa: ~holds up the airhorn~ DON'T MAKE ME HONK THE HORNNN!!
Pedro: OKAY, OKAY,  I'LL GET THE WATER JUST PLEASE DON'T HONK
Peppa: that's right. get dat water.
Pedro: ~brings peppa's water~
Peppa: WHOOOOOOOOPS!!!!! ~honks the horn~
Pedro: NOOOO ~lights on fire~
Peppa: ~stares at the fire with huge eyes~ whoah...
~peppatown is suddenly shown on fire~
Peppa: ~runs out of peppatown holding a blow torch~ ♫LET IT BURN! LET IT BURN! SET IT ON FIRE!♫ AHAHAHAAAA.....it's been two weeks! GEORGE! GET OVER HERE!
~no one shows up~
Peppa: i'd better go check on him. ~flies back to her house~
somehow, Peppa's house isn't on fire. George is still crying about mr dinosaur
Peppa: George? are you okay?
George: WAAAAAAAAAAAAAAAAA!!!!!!!!!!!!!!!!!!!!!!!!!!!!!!!!!!!!!!!!!!!!!!!!!!!!!!!!!...I'M NOT CRYING.
Peppa: come on! i'll take you for a ride on sparkles! just get out here!...wait ~remembers why she's crazy in the first place~ 
George: I JUST DON'T CARE!!!!
Peppa: wait!
George: ~jumps out the window~ ♫I'M DOWN WITH THE FALLEN AGAAAAIN!♫ ~loud crash outside~
Peppa: ~looks outside~ OH MY GOD.
George then went to the hospital.
To be continued in Peppa goes nuts 6.
Trivia
A part of this was stolen from Peppa's Airhorn
Will George become crazy too? or will he end up like Suzy?