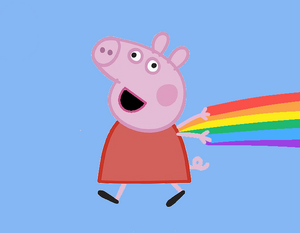 George jumped! 
Previous: Peppa goes nuts 5
Next: Peppa goes normal (yep. the next one is the end..)
lol
We open on george waking up in the hospital
Peppa: WAKE UP, SLEEPYHEAD! :D
George: ??? why am i in the hospital?
Peppa: you were all sad-pants about mr dinosaur so you jumped out the window.
George: w-w-what!? i jumped!?!? am i gonna end up crazy like you or in a body cast like suzy?
Dr: neither.
George: what?
Dr: you're fine. no one knows how, but it's like you never jumped.
George: oh. cool i guess.
Peppa: OH COME ON! it gets lonely flying by myself.
Dr: deal with it.
Peppa: ♫I'M A SILHOUETTE! EATING RAINBOWS ON MY OWN! BUT THE MORE I TRY TO MOVE ON, THE MORE I FEEL ALO--
Dr: we have a strict No singing policy here!
Peppa: No we don't! ~ carries on singing ~
Suzy: AAAAAHHH!!! ~jumps in through the window~ I'VE GOT YOU NOW, PEPPA!
Peppa: oh no! Bye bye Suzy! ~flies out~
Suzy: YOU'RE NOT GETTING AWAY THAT EASY! ~runs after her~
Peppa: Yes I am getting away this easy! ~changes into a rock~
Suzy: PEPPAAAA-- what's this rock doing here? there aren't rocks in the peppaverse. ~throws rock~
Peppa rock: ow! ~changes back~ owie!
Suzy: HOLy COW!!! you can do that!?
Peppa: i just found out that i can! anywhozies, what do you want from me?
Suzy: YOU.DROPPED.ME.FROM.THE.SKY. i was in that hospital for a year!
Peppa: well i didn't know what would happen! jeez. temper temper.
Suzy: AAAAAAAAHHHH!!!!!! ~throws a knife at peppa~
Peppa: woah! ~flies back home~
back at home
Mummy pig: not tonight. i'm not in the mood.
Daddy pig: come on! it's literelly been 5 weeks without jumping on the bed! plea-
~peppa busts through the wall~
Daddy: STOP BREAKING THE WALL!!
Peppa: IT'S SUZY. (breath) SHE'S (breath) AFTER ME. (breath) HELP.
~knives go flying at Peppa~
Peppa: Aw fudge!!! ~dodges knife, blasts rainbows at suzy, and changes into a lamp~
Mummy: PEPPA!?
Suzy: ~jumps in~ WHERE'S PEPPA!?
Peppa lamp: NONONONO
Suzy: ~holds up a bat~
Peppa lamp: wait! can't we just be friends? ~throws a tiny rainbow at suzy~
Suzy:.........you know what? sure!
Peppa lamp: yay!
Suzy: NOT! ~smashes peppa lamp~
Everyone: NOOOOOOOOO!!!!!!!!!!!!!!!!!!!!!!!!!!!!!!!!!!!!!!
George: um. does anyone care about me!? i jumped from a two story house and i'm totally fine! what if i'm the next superpig!? That would be cool :)
Mummy: George, SHE JUST SMASHED YOUR SISTER!!!
George: yeaaa. It's bad, BUT I'M FINE.
sorry that this was was short and stupid. the next one will be a LOT better
trivia
this was originally supposed to have more to do with George, but yea XD
Ad blocker interference detected!
Wikia is a free-to-use site that makes money from advertising. We have a modified experience for viewers using ad blockers

Wikia is not accessible if you've made further modifications. Remove the custom ad blocker rule(s) and the page will load as expected.