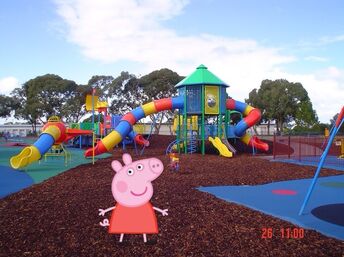 Requested by JayJayPlane
Transcript
the first part of the theme song plays. Peppa is standing on the Peppa Pig logo and jumps down.
Peppa: I'm Peppa pi--
Narrator: hey. everyone! could i have your attention please?
Mummy pig: what is it?
Narrator: i quit.
Daddy pig: what? but why?
Narrator: i have much better things to do with my life.
Peppa: but you can't quit! you just CA--
Narrator: ♫NNNNNNNNNNNNNNNNNNOPE♫ ~flies out the window~
Pepppa:...kthen.
later
George: Mummy. can i go to the playground?
Mummy pig: okay. but you can't go alone.
George: WWWWWAAAAAAAAAAAAAAAAAAAAAAAAA!!!!!!!!!!!1
Mummy pig: you have to bring peppa with you.
Peppa: ~walking in~ come on. george.
~they both leave~
Peppa: where going to the playground! :D
George: wheeee!
Peppa: This is the portal, we just need to find a fountain with sparkling, clear water.
George: Is that the fountain?
Peppa: Yes. *pushes George into the fountain, then jumps in after him*
[George sees a glowing star coming out of nowhere]
[The stars form on Peppa and George]
George: are we there yet?
Peppa: *takes off the manhole cover* PIG, YOU GUESSED IT!! HOO!! We just need to go near that building.
[Peppa and George walk near the skyscraper]
~the camera cuts to the playground~
Peppa:...you were right..
George: hm. i don't know. this one looks kind of....REAL.
Peppa: who cares? it looks fun! ~runs to the playground~
George: oh what the heck? I CALL THE SWINGS!
Peppa: ~climbs on the monkey bars~ wheee!!
George: ~swings back and forth~ woo hoo! woo hoo!
Kati: HI GEORGE.
George: FRRJFEOWNK! ~falls off the swing~
Kati: ATTTAAAAAAAAAACK!!!!!! ~points to george~
~a thousand fan-toddlers come out of the slide~
Toddler army: ♫LITTLE STAR ON THE CHRISTMAS TREE GOES TWINKLE TWINKLE TWINKLE TWIIII!♫
Kati: there will be sleepovers...MANY, MANY, SLEEPOVERS!!!!
George: PEPPA HELP ME!
Peppa: lalalala--what's going on? ~sees george getting attacked~ OH SHNAP.
Chloe: hold him down! i'll make the wedding plans
Kati: he's MINE!
Chloe: no MINE!
other toddler: MIIIIINE!
~all the toddler start attacking each other~
Peppa: ~tiptoein to my george~ let's leave while they're distracted.
Kati: IT'S PEPPA!!!!
toddler army: ~falls on peppa and freaks out~
toddler: PEPPA! SIGN MY HAIR!
other toddler: sign my pet fish! IT'S NAME IS GOLDIE!!!! JUST LIKE YOURRRSSSSS!!!!!!!
Peppa: ~signs goldie~
George: STOP GIVING IN!
other toddler: EEEEEEEEEEEEEEEEEEEEEEEEEEEEEEEEEEEEEEEEEEEEEEEEEEEEEEEEEEEEEEEEEEEEEEEEEEEEEEEEEEEEEEEEEEEEEEEEEEEEEEEEEEEEEEEEEEEEEEEEEEEEEEEEEEEEEEEEEEEEEEEEEEEEEEEEEEEEEEEEEEEEEEEEEEEEEEEEEEEEEEEEEEEEEEEEEEEEEEEEEEEEEEEEEEEEEEEEEEEEEEEEEEEEEEEEEEEEEEEEEEEEEEEEEEEEEEEEEEEEEEEEEEEEEEEEEEEEEEEEEEEEEEEEEEEEEEEEEEEEEEEEEEEEEEEEEEEEEEEEEEEEEEEEEEEE!!!!!!!!!!!!! .:.:.GEORGE JUST TALKED.:.:.
Kati: HEJUSTTALKED
baby: ~laughs forever~
George: AAAAAAAAAAAAAAAAAAAAAAAAAAAAAAAAAAAAAAAAAAAAH!!!!! *Runs*
[After some other things happened... and a dramatic chase scene that i'm not gonna bother typing up because reasons.]
Peppa: We made it home!
Mummy Pig: Peppa! George! What happened to you t- *falls into random hole* AAAAAAAAAAA(Fading)aaaaaaaaaaa.......
Peppa: ...Oops..
The end....?
Ad blocker interference detected!
Wikia is a free-to-use site that makes money from advertising. We have a modified experience for viewers using ad blockers

Wikia is not accessible if you've made further modifications. Remove the custom ad blocker rule(s) and the page will load as expected.