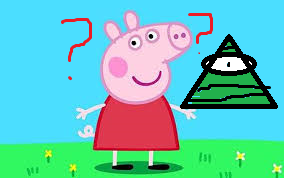 Could peppa pig be part of the illuminati?
Illuminati Confirmer
Peppa pig.
Peppa = 5 letters, pig = 3 letters.
5-3=2
2 is the first prime number
Prime number
Prime = 5 letters
5 is also a prime number
Coincidence?
Coincidence has eleven letters.
Eleven rhymes with seven
11-7=4
4 has four letters.
Half of 4 is 2
4-2 is also 2
Square root of 4 is still also 2
Two has three letters.
A triangle has 3 sides.
Triangle = Three angles.
The three angles in a triangle add up to 180 degrees.
180/3 = 60
60/3 again = 20
20/3 is a recurring number known as 6.6666....
Infinite amount of sixes.
Infinity.
2infinity&beyond.
Beyond.
Beyond has 6 letters.
Remember how 6.666... has an infinite amount of sixes?
6.6666..../6 = 1.1111111..... which as an infinite amount of ones.
One.
Illuminati has one eye.
PEPPA PIG IS ILLUMINATI CONFIRMED.... MUSIC INTENSIFIES I KNEW IT I GUESSED IT I HOPED IT XDDDDDDDDDDDDDDDDDDDDDDDDDDDDDDDD
Ad blocker interference detected!
Wikia is a free-to-use site that makes money from advertising. We have a modified experience for viewers using ad blockers

Wikia is not accessible if you've made further modifications. Remove the custom ad blocker rule(s) and the page will load as expected.