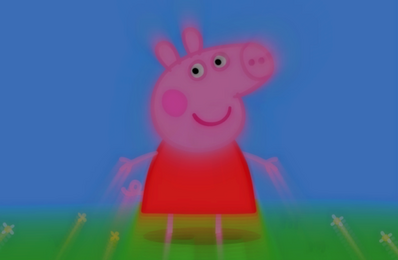 Peppa's ascension journey begins for 100 years please make it stop
Transcript
Peppa: :(
mummy pig: peppa what 's wrogn
peppa:  ican't ascend
mummy pig: o shure youcan ascend
peppa: youreally think i can n ascend?
mummy pig: i know dor a fact that youca n ascend
peppa: ok thanksmummy i'll try
daddy pig: what's going on
peppa: i'm going to ascend
dappy pig: HOLY S!!!!!!!!HIT!! WOW!!!! N!ICE
peppa: met at 8oclock for the ascension time 
8ockock is here
george pig: ohmanican'twait
peppa: ~tries to ascend~
~it doesn't wotrk~
peppa: mummy pig youbigfat liar
mummy pig: ( ͡° ͜ʖ ͡°)
peppa: mrs. mumy p pig whathave you don e v now the text is all b big
mummy pig:' '( ͡° ͜ʖ ͡°)
pepa: oh
peppa: well i stillhavent ascended
ummy: wat d o you mean youre dong it right now
peppa: ~looks down~
~ascending~
peppa: OH N!!!!!!!!!!!!!!!!!!!!!!!!!!!!!!!!!!!!!!!!!!!!!!!!!!!!!!!!!!!!!!!!!!!!!!!!!!!!!!!!!!!!!!!!!!!!!!!!!!!!!!!O
mumy: whats wrong
peppa: i forgot tht toycar wit the weird back i like
daddy ppig: awman i got it
mummy pig: ~throws that toy car with the weird back i like at peppa~
peppa: ~stops ascending~
PEPPA: OH N!!!!!!!!!!!!!!!!!!!!!!!!!!!!!!!!!!!O
peppa: mumy pig whathave you don e
mummy pig: waht do yo umean. you made the text big this time
peppa: NO I'M NOT GONA ASCEND NOW YOU'RETHE REASON THIS ISNT GONA HAPPEN
mummy pig:' '( ͡° ͜ʖ ͡°)
peppa: no stop that yousuck
another peppa: ~shows up~
peppa: ~screaming~
mummy pig: ~screaming~
everyone: ~screaming~
other peppa: guys clam down
other peppa: pepa
peppa: ye
other peppa: youshould be glad youre not gonna ascend because of that toy car with the weird back you like
peppa: what WHY WYH
other peppa: i just checked adn they don 't let godteir noscopers in heave n
peppa: aw man i 'm soglad you said that iwas gon na be so mad at mummy
MUMMY PIG: THE SINWAFFLES ARE READY 
MUMMYPIG:KIDS
peppaPIG : W"W"WOOOOOOOOO!!1
AAAAAAA
---
pepp a is eating sin waffles
george: these are good
peppa: ~ascends really quickly~
peppa: oh no
george: i guessyou'renot gonna be a god tier noscoper anymore
peppa: aw that sucks
peppa: well ~takes some sin waffles~ gtg
george: gtg
the end
Section heading
Write the second section of your page here.
Ad blocker interference detected!
Wikia is a free-to-use site that makes money from advertising. We have a modified experience for viewers using ad blockers

Wikia is not accessible if you've made further modifications. Remove the custom ad blocker rule(s) and the page will load as expected.