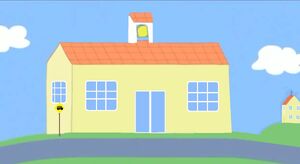 Peppatown High School is a high school in Peppatown. Hilda Human, Billy Boband Ella Edging are the fanon characters who go to learn there. Their contact group teacher is Miss Julder. The school is between Peppa's house and Suzy's house.
Ad blocker interference detected!
Wikia is a free-to-use site that makes money from advertising. We have a modified experience for viewers using ad blockers

Wikia is not accessible if you've made further modifications. Remove the custom ad blocker rule(s) and the page will load as expected.