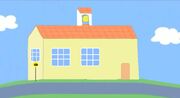 Peppatown Primary School is the primary school serving for Peppatown. It is located around the playground.
In Under Peppa's Pants, it was demolished in The Town Goes Wild because in that area, it is illegal to use British school services.
In Mateusz11113's fanon, the school is named as Peppatown Elementary School.
Students
Sonicthehdgehog223's fanon
Kindergarden
Rosie Rabbit
Robbie Rabbit
"Baby" Alexander Pig
Sally Sheep
Jase Pig
Selmo Pig
First Grade
George Pig
Alex Pig
Zaza Zebra
Zuzu Zebra
Kingsley Kangaroo
Dinky Dog
Patty Pony
Richard Rabbit
Sammy Sheep
Ronald Rat
Carlos Cat
Terrence Tiger
Second Grade
Peppa Pig
Suzy Sheep
Danny Dog
Candy Cat
Rebecca Rabbit
Lisa Fox
Emily Elephant
Brianna Bear
Max Moose
Freddy Fox
Pedro Pony
Molly Mole
Henry Horse
Wendy Wolf
Delphine Donkey
Betty Badger
Colina Cow
Theresa Tiger
Cameron Cheetah
Wally Warthog
Lizzie Lemur
Charles Cat
Henry Hamster
Staff/Employees
Miss Antelope(current teacher)
Mrs. Wildebeest (current teacher)
Mr. Cougar(current teacher)
Mrs. Deer (former teacher)
Mr. Cat (gym teacher)
Henrietta Horse (Chef)
Miss Bandicoot (Assistant Chef)
Jenny Berkman (Office Secretary)
Mr. Donkey (Nurse)
Mrs. Skunk (Retired teacher)
Steve Hopkins (Custodian/Janitor)
Mr. Jackal (Principal)