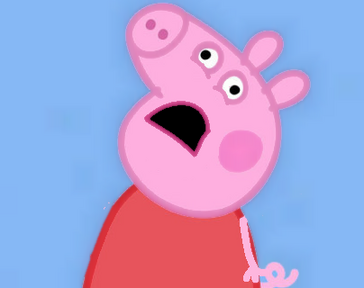 it's midnight i'm alfirk. expect this kind of stuff from me.
this story is just a bunch of nothing.
aww yee
it's very late at night. Peppa is singing to herself.
Peppa pig: ♫Bring me out. Come and find me in the dark now. Every day by myself, i'm breaking down. i don't wanna fight alone anymore--
George: would you shut up already!?
Peppa: oops. sorry george.
George: i'm serious! i'm like, 3! i need my sleep!
Peppa: alright i'm sorry.
George: if i wake up tired tomorrow, ttherre's gonna be an issue--
Peppa: i get i get it!
George: ~goes to bed~
Peppa:...hctiB ~goes to bed~
the next day
Peppa: ~walks downstairs~ ~yawns~ good morning mummy
Mummy pig: good morning peppa. i made cereal.
Peppa: thanks. ~eats cereal~
Mummy pig: how did you sleep?
Peppa: good.
Mummy pig: how was school?  
Peppa: dafuq?
~daddy pig on a motercycle crashes through the wall~
Daddy pig: KIIIIDS! guess what i bought!
Peppa: a cat! a new toy! come on i know this.
Daddy pig: seriously?
George: cyclecycle! ~hops from his chair to the motercycle~
~motercycle rides onto the ceiling and out of the room~
Peppa: it's gone through the door! ~follows the motercycle~
Peppa: it's going up the stairs!
Peppa: it's going into the attic!
motercycle: ~flies out the window~
George: ♥
Kati: TWERKITTWERKITTWERKITTWERKITTWERKITTWERKIT ~throws money on peppa~
Peppa: AH! oh my gosh! it's that midget from pizza hut!!
George: that thing that attacked us with it's army?!
Mummy pig: NOOOOOOOOOOOOO!!!! ~dives out the window~
Kati: it's just me, Kati! remember? i had that dress just like yours?
Peppa: oh yeah.
Kati: ~suddenly holding a plate of spaghetti~ Peppa! i have some some spaghetti we can share together! ~demonic voice~ COME ON. I KNOW YOU LIKE SPAGHETTI
Peppa: would you like a sneak peek of a new song from a new episode?
Kati: ~gasps~ AAAAAAAAAAAAAAAAAAAAAAAAAAAAAAAAAAAAAAAAAAAAAAAAAAAAAA-- i mean, yes.
Peppa: ~inhales deeply~ ♫WELLLL, IT'S A BEATIFUL DAY FOR THE PEPPA YEAR! WE'RE JUMPING ALL AROUND IN OUR SATURDAY GEAR! PEDRO IS DEAD.♫
Kati: wonderful! what was that last part?
Peppa: jumping all around in our saturday gear.
Kati: oh. okay :)
~a portal opens and richard rabbit jumps out~
Richard: GUYS! i need to get the appep seeds from planet ssataF and i need FOUR people to help me!! George, you're automatically going.
George: aw man. seriously?
Peppa, Kati, and Daddy pig: ME ME ME ME ME ME ME!!!!
Richard: whatever i pick all of you. ALRIGHT LET'S GO LET'S GO
Mummy pig: bye everyone!
~everyone jumps into the portal and it disappears~
Mummy pig: finally. an episode can be about me. Hi. i'm mummy pi--
the end
trivia
Ad blocker interference detected!
Wikia is a free-to-use site that makes money from advertising. We have a modified experience for viewers using ad blockers

Wikia is not accessible if you've made further modifications. Remove the custom ad blocker rule(s) and the page will load as expected.