Remember: PINECRAFT Is a parody of the original 'MINECRAFT' game.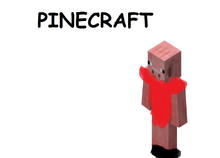 "
in Pinecraft, you do your own imagination, build, fight mobs, and survive, you may choose Creative mode, which has unlimited resources, no ememies, In survival, you get to fight zombies, spiders etc.
"

— Johnny06
Console: It is available on Xbox 360\ONE, PS3\4, IOS Devices\Android Devices
How to play: on console\PC and\or Mac, it'll be exact as Minecraft, on android\IOS, it is a little different, you tap [P] in the upper right to pause, and arrow sticks to move, and center circle to jump.
Release: May 17, 2009 or December 11, 2015 [PC\Mac]
Updates
0.1.0.0: blocks, crafting table and a furnace.
0.1.0.1: Chickens, zombies, spiders, wood\stone tools.
0.1.0.2: Cows, Ocelots, Wolfs, iron tools, armor, ingots and blocks and Leather Armor.
0.1.0.3: Monster Sounds and endermen.
0.1.0.4: Caves, cave sounds, pigs, villages, villagers, zombie villagers and The Nether.
Logos

Ad blocker interference detected!
Wikia is a free-to-use site that makes money from advertising. We have a modified experience for viewers using ad blockers

Wikia is not accessible if you've made further modifications. Remove the custom ad blocker rule(s) and the page will load as expected.