Remember: PINECRAFT Is a parody of the original 'MINECRAFT' game.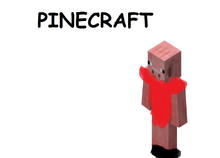 "
in Pinecraft, you do your own imagination, build, fight mobs, and survive, you may choose Creative mode, which has unlimited resources, no ememies, In survival, you get to fight zombies, spiders etc.
"

— Johnny06
Console: It is available on Xbox 360\ONE, PS3\4, IOS Devices\Android Devices
How to play: on console\PC and\or Mac, it'll be exact as Minecraft, on android\IOS, it is a little different, you tap [P] in the upper right to pause, and arrow sticks to move, and center circle to jump.
Release: May 17, 2009 or December 11, 2015 [PC\Mac]
Updates
0.1.0.0: blocks, crafting table and a furnace.
0.1.0.1: Chickens, zombies, spiders, wood\stone tools.
0.1.0.2: Cows, Ocelots, Wolfs, iron tools, armor, ingots and blocks and Leather Armor.
0.1.0.3: Monster Sounds and endermen.
0.1.0.4: Caves, cave sounds, pigs, villages, villagers, zombie villagers and The Nether.
0.1.0.5: Golems, Beacons, Hunger Bar, Ghasts and doors.
0.1.0.6: Killer Bunnies, Giants, Horses and Skeleton Horses.
0.1.0.7: Pigmen and Zombie Pigmen.
0.1.0.7.1: Pigmen removed.
0.1.0.8: Far Lands and Giants removed.
0.1.0.9: Pumpkins, Melons, and Golden Apples.
0.1.1: Killer Bunnies removed. Regular Bunnies added.
0.1.2: EnderPearls, Blaze, Enchantments, and Griefing added.
0.1.2.1: Blaze Rods and Eye of Ender added.
0.1.2.2: The End, Endermites, and Gold Tools added.
0.1.3: Zombie Horses and Diamonds added
0.1.3.1: Saddles and Diamond tools added
0.1.4: Spectator mode and commands
0.1.5: Lapis Lazuli, Redstone, and Emeralds
0.1.5.1: Slimes, Bedrock, and Glowstone added.
0.1.6: Illagers, Levers, Buttons, and pressure plates added. 
0.1.7: Witches added. 
Logos