Pippa Pork is a popular show in the Pippaverse featuring Pippa.
Plot
The adventures of Pippa Pork and her family in a Peppa Pig alternate universe known as the " Pippaverse ".
Episode Structure
Episode content
Ending
Canon-Based Episodes
Note: The episodes are rated PG 13 as they may contain violence and/or minor language.
Season 1
Season 2
Season 3
Season 4
Season 5
Ohe Toutback (part 1)
Fursing (part 2)
Ghe Treat Farrier Beef (part 3)
Roomerbang (part 4)
TBA
Special
Special episodes are shorter and more poorly animated. they are sometimes played with regular episodes.
Fanon-Based Episodes
Fanon Season 1
Episodes based on other TV programs' episodes
Pop Culture Season 1
Movies
Movies that are either canon based or fanon based that are Pippa pork.
Spin-offs
Characters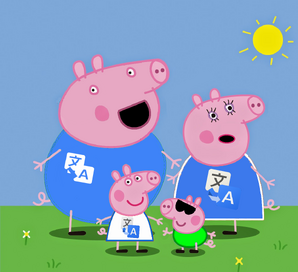 Based on canon characters
Based on fanon characters
Carsy kitten (Cara Cat)
Bittlelat9000 (Littlebat10)
Other characters
Trivia
Peppa Pig characters sometimes appear in the series.
The name "Pippa pork" originally came from Peppa Pig's name being translated in Google Translate.
The Pippa pork series was first mentioned in "Backflip Peppa

".

Each season has 15 episodes.

The exception is season 5.

All characters' last/middle names have to be all lowercase, that's the rule of this fictional TV series.

Torsey Hwinkle Toes is the one exception to this rule

Once the series reaches Series 5, the episodes will start being based off of fanon episodes.
Pippa Pork characters saying "Oh my Astley/OMA" is a reference to the real life Peppa Pig director Neville Astley.
The universe the show takes place in (The Pippaverse) used to be called The Pippalaxy as shown in Backflip Peppa.
The show occasionally airs on The idiot channel.