This page has many red links, meaning that it has links to pages that don't exist, so it is advised that you create pages leading to these links.
Pippa Pork is a popular show in the Pippaverse featuring Pippa pork. The idea originally came from Peppa Pig's name being translated by Google Translate. It debuted in "Backflip Peppa".
Episode Structure
Episode content
Ending
Canon-Based Episodes
Note: The episodes are rated PG as they may contain violence and/or minor language.
Season 1
Season 2
Season 3
Season 4
Season 5
TBA
Season 6 
TBA
Special
Special episodes are shorter and are sometimes played with regular episodes.
Fanon-Based Episodes
Fanon Season 1
Movies
Movies that are either canon based or fanon based that are Pippa pork.
Spin-offs
Characters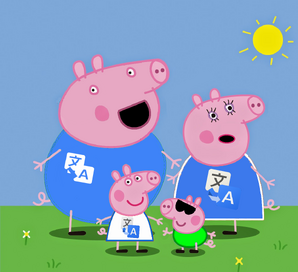 Based on canon characters
Based on fanon characters
Carsy kitten (Cara Cat)
Bittlelat9000 (Littlebat10)
Other characters
Trivia
Peppa Pig characters sometimes appear in the series.
It premiered on Christmas day of 2014.
Each season has 15 episodes.
It's episodes have mix-up names. (Example: "Traffic Jam" changes to "Jraffic Tam")
All characters' last/middle names have to be all lowercase, that's the rule of this fictional TV series.
Once the series reaches Series 5, the episodes will start being based off of fanon episodes.
Muma Lamb has a spouse despite Mummy Sheep not having a spouse.
The Bolden Goots is an episode despite The Golden Boots is an Movie.
Pippa Pork characters saying "Oh my Astley/OMA" is a reference to the real life Peppa Pig director Neville Astley
The universe the show takes place in (The Pippaverse) used to be called The Pippalaxy as shown in Backflip peppa
Ad blocker interference detected!
Wikia is a free-to-use site that makes money from advertising. We have a modified experience for viewers using ad blockers

Wikia is not accessible if you've made further modifications. Remove the custom ad blocker rule(s) and the page will load as expected.