The introduction for all
Pippa Pork
episodes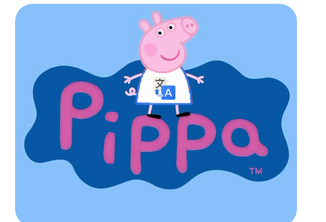 Transcript
Pippa stands on top of a blue cloud that reads "Pippa" in pink text
Pippa: [Jumps off blue cloud]
Pippa: [While falling, DOES SPECIAL ACTION]
Pippa: I'm Pippa Pork!
Girge: [Leaps on and zaps the air with his GamePig]
Pippa: This is my pathetic brother Girge!
Girge: Grrr!!!!!!!!
Muma: [Walks on with sprouting rainbows]
Pippa: This is Muma Pork!
Muma: [Pyro fire]
Father: [Walks on causing an earthquake]
Pippa: This is Father Pork!
Father: [Explodes, blowing up the scene and cutting to the episode content]
Special actions
The action Pippa does after jumping down from the cloud.
Season 1
Season 2
Season 3
Season 4
Clothing
The clothes Pippa and others wear.
Season 1
Season 2
TBA
Season 3
TBA