Pippa pork is the main protagonist of the popular show Pippa pork and the Pippaverse counterpart of Peppa Pig.
Appearance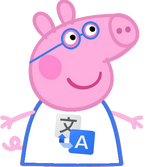 Pippa is a light magenta-pink pig. She wears a white dress with blue outlines and like
Muma
 and 
Father
 pork, It has the google translate icon on it.  Pippa wears a dark blue bonnet, an ultramarine dress and a white apron during her portrait cameo in
Dance Class
. 
Appearance changes
After the events of "Ehe Tye Test"

, Pippa now wears light blue glasses.

After the events of "Shew Noes", Pippa now wears blue shoes that match her glasses
Trivia
Out of all of the Pippa pork characters, Pippa is the one most like her counterpart.
Pippa has -400 vision along with being extremely colorblind.

In an episode of The Illuminati Series, it is revealed that Pippa only faked having bad eyesight to get a pair of glasses she thought were cool. It is unknown whether or not this is canon.

According to "Jraffic Tam", Pippa knows she's in an alternate universe.
In the episode "Dance Class" a portrait of the medieval Pippa is seen when Peppa is changing.
In the Pig family's family tree, it is revealed that Pippa is a far relative of Peppa Pig with the name of "Pippa Pig".