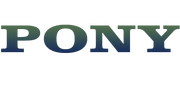 Pony
is a company that manufacturers electronics, TVs and video game consoles. The company's headquarters are in
Dublin, Ireland
.
It is a parody of Sony. It also has many sub-companies, like Pony Computer Entertainment, Pony Tabphone Group, and Pony Mobile Communications.
Releases
Known Products

Type

Years

Pony TV

Television

1984-1989

Blu fish VCR 

VHS player

1984-1990

PIV Pony

Cell phone

1985-1993

Pony Camera

Camera

1986-1994

Pony PC

Computer

1987-1995

Pony TV II

Television

1989-1999

PlayTerminal (PT1)

PTone

Video game console

1995-2000

2000-present

Pony Camera II
Camera
1997-2004

Pony TV III

Television

1999-2009

PlayTerminal 2

Video game console

2000-2013

Pony PC II

Computer

2003-2005

Pony Camera III
Camera
2005-2010

PlayTerminal 3

Video game console

2006-present

Pony Peterson

Cellphone

2011-present

PlayTerminal Portable

Portable console

2005-2011

Pony Camera IV
Camera
2012-present

PlayTerminal Vita

Portable console

2012-present

PlayTerminal TV

Miscellaneous

2013-present

PlayTerminal 4 

Video game console

2013-present

Blu fish DVD Player

DVD player

2014-present

Pony Pexeria Z9

Smartphone

2015-present

Pony TV IV

Television

2015-present

Pony PC III

Computer

2015-present

Pony LED TV

Television

2015-present 

Pony Plasma LED Smart Television

Television

2016-present (upcoming TV screen with console)

PlayTerminal PC

PC

2015-present
History
In 1984, Grandpa Pony, a businessman, founded a company that changed the Peppaverse. It was originally headquartered at his house, his house was a size of a workshop. After he created the Pony TV, he created the Blu-fish VCR. It was a success. After that, he wanted to sell a cellphone, so he created the PIV Pony. After it was released it was a huge success. He had to make a text-to-speech voice with his voice for the cellphone. 
Write the rest, Mac+Cool.
Ad blocker interference detected!
Wikia is a free-to-use site that makes money from advertising. We have a modified experience for viewers using ad blockers

Wikia is not accessible if you've made further modifications. Remove the custom ad blocker rule(s) and the page will load as expected.