| | |
| --- | --- |
|   | This article has been rated 15, meaning it contains content not suitable for kids under 15 years old. |
| | |
| --- | --- |
| | This page has been rated 12 because it is weird.. |
It is the beginning of a new episode and Peppa Pig journeys off for a new conflict-packed adventure but something steps in the way...
How Peppa dies
[Peppa theme song plays]
Meanwhile Peppa is standing on a blue cloud with the words "Peppa Pig" on them.
Peppa jumps off the blue cloud to the floor for the 83924792836589236854th time in a row. Unfortunately for peppa, someone has removed all the ground to prepare for an epic discovery to the centre off the Earth to find out if the rare radioactive element 'Francium' still exists within the Earth.
"AAAAAAAAAAAAAAAAAAAAAAAA!!!!!" screams Peppa Pig as she falls through the air, speeding up every second.
Daddy Pig, Mummy Pig and George hear Peppa's unearthly screams and look down the hole.
Mummy pig: Peppa!
Peppa: AAAAAAAAAAAAAAAAAAAAAAAA!!!!!, I'M FALLING FALLING FALLING FALLING FALLING FALLING!
Daddy pig: AND YOU ARE GROUNDED GROUNDED GROUNDED GROUNDED GROUNDED FOR JUMPING DOWN THE HOLE AFTER WE WARNED YOU!
Peppa pig eventually falls so that she can no longer hear her family.
Peppa pig: SOMEBODY HELP ME....[Hits ground and dies]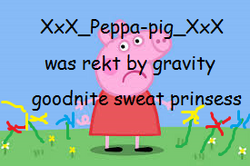 Ad blocker interference detected!
Wikia is a free-to-use site that makes money from advertising. We have a modified experience for viewers using ad blockers

Wikia is not accessible if you've made further modifications. Remove the custom ad blocker rule(s) and the page will load as expected.