Randall "Randy" Rhino is one of the new kids in Peppa's playgroup alongside his best friend Candace Cow. He is Mr. Rhino's son and Rita Rhino's older brother. He is fascinated with robots and elephants (Edmond Elephant especially). 
Randy appears in the game as an enemy. When the player gets to choose a second class, the Headmaster (
George
) puts them through a training course where they fight Randy. After he is defeated, Randy leaves and goes to Starbucks.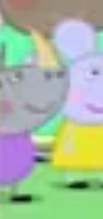 Trivia
He doesn't have many enemies since he's only starting out in Playgroup.
He gets picked on by Peppa uncontrollably for having a "big tooth" at the end of his face.
His name was never mentioned on the show.
His real name is Ronald.