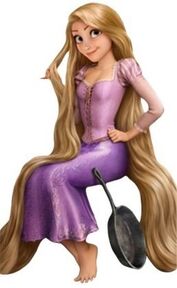 Rapunzel
is a crossover character, originating from Disney's 2010 film Tangled. She appears in "Priscilla Pig" and is portrayed by Mandy Moore.
Looks
Rapunzel is 18 years old during the film and episode, and is considered a beauty. She has fair skin with a light tint of blush to it and is mostly known for her golden blonde hair which in length is around 70 feet, though her hair is naturally brown, like her parents'. The hair is noticeably shiny, like satin. Rapunzel also has light freckles, mostly around her nose, as well as large, bright green eyes, and a playful smile.
Rapunzel's dress is a traditional German dress called the "Dirndl", with longer skirt than a normal Dirndl dress would sport, and her dress also has a purple theme, with a pink accent. The dress itself consists of a lavender corset top laced with a pink ribbon. The skirt is purple and decorated with swirl designs, in pink, dark purple and white. She also wears a white petticoat underneath. The skirt's hemline is above her ankles, but well below her calves. Her sleeves, at the top, are puffed and striped, pink and lavender, and the rest, is a pale, baby pink, with white lace at the end. Rapunzel does not wear shoes, preferring to go barefoot. Sometimes, she wears her hair in a thick braid with smaller braids woven in, decorated with flowers.
Rapunzel's homecoming dress has white lacing on the neckline and the sleeves, and has a pink bodice that has swirly patterns on it and a corset lacing at the back. The skirt is purplish-pink with similar patterns that are found on her old dress.
Ad blocker interference detected!
Wikia is a free-to-use site that makes money from advertising. We have a modified experience for viewers using ad blockers

Wikia is not accessible if you've made further modifications. Remove the custom ad blocker rule(s) and the page will load as expected.