Ruby Loses His Grille
is a fanon episode and crossover which is a tale about
Ruby "Easy" Oaks
, losing his grille.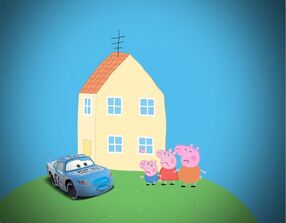 It is the first episode of
Season 14
.
Plot
One day, the pigs were watching Cars on the telly until they heard some zooming. It was Ruby "Easy" Oaks. He had lost his grille. "Oh, please help me!" Ruby said. "Help you with what?" Tobias Pig asked. "My grille!" Ruby said to Tobias. "It's fallen off!". "Hmm. That doesn't look good." Mummy Pig said. "We'll call Grandad Dog and let Timmy Towtruck tow you to the workshop." "Aw, thanks Mummy Pig!" Ruby said, with happiness spreading. There, Timmy Towtruck came and hooked Ruby's back bumper and towed him to the workshop. "Thanks, guys!" he said. "Hello! What's happened?" said Mr. Newfoundland who was with his son, Neville Newfoundland. "Hello, I'm Ruby "Easy" Oaks." said Ruby. "My grille came loose while I woke up ready to go to Peppatown." "Don't worry Ruby, I will fix on a new grille while I fix your old one." Mr. Newfoundland said, trying to cheer up Ruby. "Thanks!!" Ruby sighed. "You're a hero!"
Ad blocker interference detected!
Wikia is a free-to-use site that makes money from advertising. We have a modified experience for viewers using ad blockers

Wikia is not accessible if you've made further modifications. Remove the custom ad blocker rule(s) and the page will load as expected.