| | |
| --- | --- |
| | This page has been rated 12, meaning it contains content that may be inappropriate for readers under the age of 12. |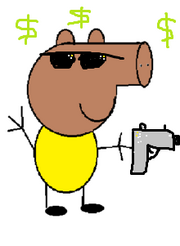 Contains minor swears.
Story
Shintoku Pig wants to own a gun, so walks to the gun shop!
[At the gun shop]
Till dude: Hey dude what do you want to buy?
Shintoku: I take a Desert Eagle
Till dude: KK but you must give me your PS2
Shintoku: But me no want give to you my PS2!
Till dude: THEN NO DESERT EAGLE UNLESS YOU GOT MONEY, BITCH.
Shintoku: K fine [Gives money]
Till dude: Thx dude come again pls
Shintoku: Could me take also IMR Red Dot Sight and M4A4 pls
Till dude: Pay up then
Shintoku: [Pays oney]
Till dude: WTF YOU HAVE ONE MONEY TOO LITTLE
Shintoku: K I know but please you make a discount?
Till dude: BITCH THIS ISN'T BLACK MARKET EITHER PAY UP OR GTFO!
Shintoku: K fine [Pays with emergency coin]
Till dude: Thx dude pls visit again!
Shintoku: NO! [Shoots Till Dude with Desert Eagle]
Shintoku: NOW I STRONG WITH GUNS!
[Cops show up]
Shintoku: F*ck.
THE END