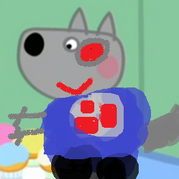 Sid the Spelling Cyborg
is a toy robot wolf. He first appears in "
Peppa Goes to Topsy-Turvy Town
". Peppa and her friends play with him for hours. He also spells a lot of words. He is voiced by Warwick Davis.  
Appearances
Peppa Goes to Topsy-Turvy Town (debut, but does not speak)
The Little Lost Robot
Rosie and Robbie at the Playgroup
Disco (cameo)
Cheer Gabby up (cameo)
So Long, Sid (last appearance)
Quotes
"C-A-T. Cat."
"P-E-P-P-A. Peppa."
"G-E-O-R-G-E. George."
"Hello, everyone. I'm Sid the Spelling Cyborg. I can spell millions and millions of words.
Ad blocker interference detected!
Wikia is a free-to-use site that makes money from advertising. We have a modified experience for viewers using ad blockers

Wikia is not accessible if you've made further modifications. Remove the custom ad blocker rule(s) and the page will load as expected.