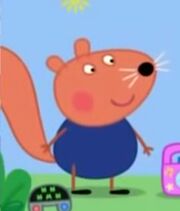 Simon Squirrel is one of Chloé Pig's big friends who calls himself "Si". He attends Peppatown Primary School.
He also has a gang consisting of him Chloé and Belinda Bear and is a member of Tobias' Gang.
Trivia
In Deathfreddy13's fanon, Simon is Chloé Pig's boyfriend.
In Finlaydoespotatoes2005's fanon, Simon is from a rich family.
He won peppa pig: the games show.
Ad blocker interference detected!
Wikia is a free-to-use site that makes money from advertising. We have a modified experience for viewers using ad blockers

Wikia is not accessible if you've made further modifications. Remove the custom ad blocker rule(s) and the page will load as expected.