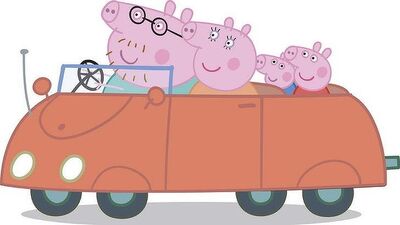 Skids
is
Mummy Pig
,
Daddy Pig
,
Peppa Pig
&
George Pig
's gleaming red car. He is also a convertible and is based on a 2002 Volkswagen Beetle (Punch Buggy). He is is best friends with
Timmy Towtruck
.
It reveals Skids challenging Sally to a crazy race to Lightning McQueen's dirt track, but he says he can handle bumpy roads easily. Skids is very cheeky and clumsy sometimes, which leads him into trouble. He is taxi-like and can take the pig family anywhere (even far places). Skids also has a twin called Bert. When Skids breaks down, Mummy & Daddy borrow Bert instead. He communicates by beeping his horn, but he talked in "Skids' Twin", where Daddy Pig got a fright.
Death
He died in the banned episode "Giant gas fire at the Playgroup" when he exploded, his funeral was thrown in "Skids' Funeral".
Trivia
In 2005EvimothCity and CreationBeTheWorld23's fandom, he doesn't talk, does not have a twin and didn't die. He is also nameless in the two fandoms.
In Mateusz11113's fandom, he doesn't talk, does not have a twin and didn't die too.
Gallery
Ad blocker interference detected!
Wikia is a free-to-use site that makes money from advertising. We have a modified experience for viewers using ad blockers

Wikia is not accessible if you've made further modifications. Remove the custom ad blocker rule(s) and the page will load as expected.