the official spin-off of Peppa and the apple juice. 
rated T for one swear word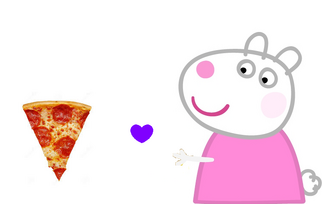 LOOK BACK AT IT
one night in the sheep household, Suzy was rage quitting in the kitchen
Suzy: ~throws the sink~ I'M HUNGRY!!!!!!! >:U
Mummy sheep: ~runs down the stairs~ HOLD UP! ~runs to suzy and falls over~ owww!
Suzy: D': mummy! are you okay?
Mummy: ...♫TONIGHT I'VE FALLEN AND I CAN'T GET UP! I NEED YOUR LOVING HANDS TO COME AND PICK ME UP! AND EVERY NIGHT I MISS YOU--♫
Suzy: ~helps her mom up~ just stop singing.
Mummy: thanks. so what's up?
Suzy: i'm hungry and there's nothing to eat!
Mummy: how about some pizza? ~holds up a pizza slice~
Suzy:....GIMMIEGIMMIEGIMMIEGIMMIEGIMMIEGIMMIE
Mummy: ~gives her the pizza slice~
Suzy: WOOO!
Mummy: ~throws a smoke bomb down~ SMOKE BOMB! ~disappears~
Suzy: ~about to eat the pizza~
Pizza slice: WOOOOAH! don't eat me!
Suzy: but i gotta! i'm so hungry!
Pizza slice: no way, bro! ~jumps out of suzy's hand and runs away~
but instead of chasing after it, she went back into rage quit mode
Suzy: AAAAAAAAAAA!!!! GETYOURASSBACKHERERIGHTNOW!!!!!! IREUFKLAEBGFIHKJLHIESNB FG;EANGJLEGL.ENJFKLBSJGAK
Pizza slice:...uh hello? you're supposed to chase me. that's kinda how this goes.
Suzy: ~spazzes on the floor~ IEFKJ WFBHJAIBFJKHKB IWNJKFERNKFENMLE. AAAAAAAAAAAAAAAAAAAAAAAAAAAAAAAAAAA!!!!!!!!!!!!!!!!!!!!!!!!
Mummy: SUZY ARE YOU OKAY DOWN THERE
Suzy: JUST.FFFFFFFFFFFFFIIIIIIINE!!!!!!!
Pizza slice: whatever, man. i'm calling some friends ~picks up the phone~
Suzy: DON'T. YOU. DARE.
Pizza slice: too late. already did.
Suzy: AAAAAAAAA!!!!!!!!!!!! ~eats the phone~
Pizza slice: better him than me. 
Suzy: OH MY GOSH YOU TICK ME OFF SO MUUUUCH!!!
Pizza slice: just chill -.-
Suzy: yea. you're right. wanna play a game?
Pizza slice: sure
Suzy: KICK THE PIZZA!
Pizza slice: wait. no. NO!
Suzy: KICK THE PIZZA!!!
Pizza slice: NO! DON'T KICK THE GODDAMN PIZZA!!!!
Suzy: ~kicks the pizza out the window~ YES! HE'S GONE FOREVER.
Pizza delivery dude: DID SOMEONE ORDER 1000 PIZZAS?
Suzy:....NO! NOOOOOOOOOO!!!
FIN
trivia
mummy sheep was singing a real song
Ad blocker interference detected!
Wikia is a free-to-use site that makes money from advertising. We have a modified experience for viewers using ad blockers

Wikia is not accessible if you've made further modifications. Remove the custom ad blocker rule(s) and the page will load as expected.