That Snail is Fast is an episode where Peppa and her family go to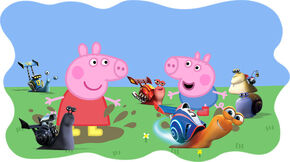 Granny and Grandpa's house, but Peppa and her friends got a surprise by seeing Turbo and the Fast Action Stunt Team on the ground. OH MAN, IT REALLY IS.
OHHH MAN
Narrator: Peppa and her family are gonna to Granny and Grandpa Pig's house. 
Peppa: Granny Pig! Grandpa Pig! Where are you?
George: DANDY IG. PAPA IG.
Peppa: There not here. :(
Mummy Pig: oh well. let's go home.
Peppa Pig: oka-- OH MY GOSH
Narrator: A snail is on the ground, moving very fast
Peppa: THAT SNAIL IS FAST
Mummy pig: Peppa, what are you talking abo-- ~sees Turbo~ OH MAN IT REALLY IS
Daddy Pig: OHHHH MAN
~Peppa's friends ride in on their bikes~
all: hello, peppa!
Peppa: GUYS LOOK AT THIS SNAIL!
Suzy:...That's amazing!
Danny Dog: Oh! OH! OH MY GOSH THAT IS FANTASTIC!!! 
Peppa: I KNOW! I KNOWWWW
~The snail zooms away~
Mummy Pig: WOOOOAH!!!
Everyone: PPPPPPPPPPPPPPPPPP
Pedro: Er, sorry to excuse, but who are you?
Turbo: My name,  is Turbo.
Danny Dog: WOW! Is that the real Turbo?
Turbo: Yep, that's me. And these are my friends, Whiplash, Chet, Skidmark, Smoove Move, Burn &......
White Shadow: WHITE SHADOOOOOOOOOOOWWWWWWWW!
Turbo: Thanks, White Shadow. Is your name Peppa Pig?
Skidmark: Oh my goodness! Someone's covered the pigs in pepper!
Peppa: Um, Skidmark, I am not covered in pepper.
Whiplash: Hey! She's not covered in pepper!
Peppa: I guess Skidmark can be a big crazy maniac. You must be Whiplash!
Whiplash: How do you know my name? Also, Skidmark can have something spooky to invent.
Peppa: How did I know your name? I saw you on Netflix!
Whiplash: Hey, Garden Snail! Do you want to race around Peppatown?
Peppa: Why do you call him "Garden Snail"? He might not look like a garden snail to me, but I like it!
Whiplash: Thanks, Peppa. Turbo is like a Garden Snail to us. Smoove Move: Since you're from Peppa Pig, ya dig, I've got some music up my speakers!
Peppa: Smoove! What music have you got?
(Music plays) I'm Peppa Pig. OINK. This is my little brother George, OINK OINK. This is Mummy Pig, SNORT. And this is Daddy Pig! SNOOORT! Peppa Pig. OINK.
Peppa: That's my intro! Thanks SMOOOVE!
Chet: Peppa, if you see some glass on the pavement, avoid it if you want to get your feet cut.
Peppa: Okay, Mrs. Chet!
Chet: I AM NOT A MRS.! I AM A MR.!
Peppa: Sorry, Mr. Chet!
Chet: Everyone (even Tito) called me "girlfriend". Do I look like one?! NO!!
Section heading
Write the second section of your page here.
Ad blocker interference detected!
Wikia is a free-to-use site that makes money from advertising. We have a modified experience for viewers using ad blockers

Wikia is not accessible if you've made further modifications. Remove the custom ad blocker rule(s) and the page will load as expected.