Transcript
Littlebat10: I'm the Cracktastic king!
Peppa: No you're not Mac+Cool is.
Ozarcusmapseae: No, I am.
Littlebat10: I'm gonna be the cracktastic prince!
Diamondcup: I'm that already!
Littlebat10: What about Cracktastic Mayor?
Peppa: I think George is running for that position already.
Littlebat10: We'll see about that!
George: Cracktastic-saurus! (grows wings and flys off)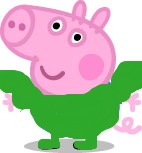 Littlebat10:(flys after George at 100 mph)
Peppa: That's just stupid! If this is cracktastic, count me out!
Mummy: Peppa! Suzy came to play!
Peppa: Be right there mummy! Super Pig, away! (flys to house)
Littlebat10: I'll get you George! If it's  the last thing I do!
Peppa: (looks up) Look Suzy!
Mac+Cool: (appears) Stop this fighting!
Littlebat10: Mac+Cool?!
George: Oink oink!
Mac+Cool:Littlebat10, I DUBB YOU THE CRACKTASTIC MAYOR!!!!
Littlebat10: YEEEEEEEAAAAAAHHHHHH! (flys back home)
Trivia
Littlebat10 is the cracktastic mayor!
Diamondcup is the Cracktastic Prince!
Mac+Cool is the cracktastic king!