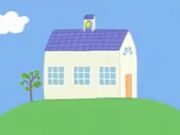 The Playgroup is the playgroup where Peppa Pig and her friends attend.
Students
Quongus (MrsWhatever40's Fanon)
Stella Skunk
Abbie Akita
Cara Cat
Charlotte Chinclilla
Eggbert (Willdawg14's fanon, formerly)
Teachers
Trivia
Peppa didn't think George was ready for playgroup, though it was presumably Peppa's first day of playgroup, too.
It also serves as a ballet school, as revealed in the episode " Ballet Lesson ".
It opened up in 1923 as Playgroup of Pork. It closed in 2017 as The Playgroup and replaced as [Insert name here] Hotel.
Gallery