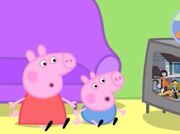 Transcript
(The Mr Potato Show ends and Angela Anaconda comes on)
Angela: (from TV, singing) My name is Angela, hey ho! Welcome to my very own show! I'll introduce you to my friends!...
Peppa: HOLY MUDDY PUDDLES!!!!!! The animation is so scary!
Maddy: Is that ANGELA ANACONDA on in there? I haven't seen that show since '99!
Peppa: Maddy, never mind that! It looks creepy! But the boy in the blue vest is sweet. And he draws well.
Maddy: Is that Gordy Rhinehart? He wore a blue sweater vest, he drew well and was very, very sweet! Although, I must say he's a bit of a nerd.
Peppa: What's a nerd?
Maddy: Someone who's not very cool.
George: Show scary! *cries*
Peppa: Boy, this is creepy! My heart's beating! And, because the French girl's all mean, my pen pal Delphine would hate this! *shrieks in fear*
Mummy Pig: What's all this commotion about?
George: Telly! Creepy show airing!
Mummy Pig: That looks like Angela Anaconda! Maddy watched that when I looked after her! Ah, the memories! Why are they airing it again?
Peppa: *runs outside*
George: *runs upstairs*
Mummy Pig: Errr, Peppa? George?
Trivia
The French girl who was 'all mean' was Nanette Manoir.
Gallery