The Wedding Ghost is an unknown creature that has been sighted around Peppatown by people camping in the forest.
Description
It seems to have the appearance of a transparent pig, not much else is known about it.
It is called The Wedding Ghost because it was first sighted at a wedding. The Fox family and Kangaroo family were having a trip to the forest to celebrate that Forrest Fox and Kari Kangaroo's Marriage, when a picture of Freddie Fox and Kylie Kangaroo playing together seemed to have a mysterious third person on it. But a few days prior, Freddy's cousin Frank Fox was recording audio when he heard something strange.
The second sighting was with Penny Pony and Mac Pig on a few days after the wedding. They were up at night near the edge of town exploring. They turned the corner and came to a stop after hearing something in a tree. They looked up and could make out a pig shape. They ran out of there and got home.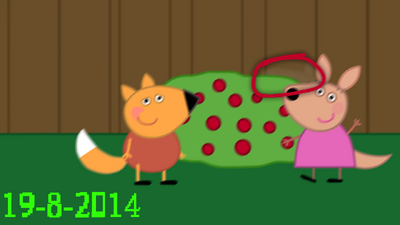 It was said that it was captured by the PIA but has since escaped.
Ad blocker interference detected!
Wikia is a free-to-use site that makes money from advertising. We have a modified experience for viewers using ad blockers

Wikia is not accessible if you've made further modifications. Remove the custom ad blocker rule(s) and the page will load as expected.