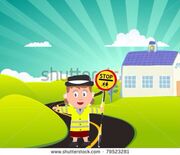 The Witch Lady
is a witch who gives out candy to kill children for a road near Peppa's playgroup and has a pet wolf called Freddy Krueger. When she was 5, she was a cast member of 
Lollipop Lane
 a show that aired on PET.
In one episode, she says that she was once The Lollipop Lady at The Playgroup, until she was on drugs and gave Danny Dog diabetes after feeding him too much candy. She fed Simon Sheep too much candy and also gave him diabetes and skinned the second child alive. The first one survived and she got fired. She abused her cat and her cat ran away to a new owner. She became a evil witch and adopted a pet wolf. Her pet wolf is named after a horror movie killer. She also said that she lives in a gingerbread house in a episode.
Trivia
In one episode, it is revealed that the rumors weren't true and she is actually a nice person. 
Ad blocker interference detected!
Wikia is a free-to-use site that makes money from advertising. We have a modified experience for viewers using ad blockers

Wikia is not accessible if you've made further modifications. Remove the custom ad blocker rule(s) and the page will load as expected.