| | |
| --- | --- |
| | NOTICE: This article is considered as a Cracktastic article, meaning it may be hilarious and nonsense. The reasons for this are due to the article's title and intentionally bad spelling/grammar. |
Welcome
Hello, and welcome to the craziest, most cracktastic fanmade episode ever
NOTICE: this IS fanon and there is a 99% chance that it won't become a real episode.
Synopsis
Peppa wakes up one morning to find out that the world has become a very strange place! How long will she survive?
Transcript
Every character in the whole Peppa Pig series: [reading title card] The strangest episode ever.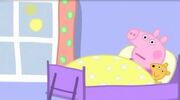 We open on Peppa waking up.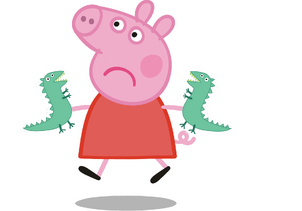 Peppa: NOOOOOOO! Who... ...did this?
[Peppa realizes both of her hands have become Mr. dinosaur]
Peppa: [screams very loud]
Peppa: [dances down the stairs] MUMMY! HELP! MY HANDS HAVE BECOME MR. DINOSAUR!
Mummy pig: [her head turns all the way around to see Peppa] You're adopted.
Peppa: AAAAAAAAAAAAAAAAAAAAAAAAAAAAAAAAAAAAAAAAAH!!!!!!!!!!!!!!! DADDY PIG!
Daddy pig: [begins talking to Peppa, but slowly gets smaller and smaller until he disappears]
Peppa: WHAT IS THIS!?!?!?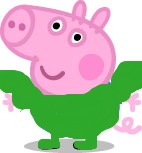 [Peppa hears giant foot steps behind her]
George: (from behind peppa) DIIIIIIIIIIIINEEEEEEEEEE - SAAAWWWWWW
Narrator: Peppa turns around to see a gigantic, horrifying pterodactyl with George's head.
Peppa: [screams very loud again, runs for the front door and opens it with the claws of her right Mr. Dinosaur hand]
[Rainbows spontaneously come from the door]
Meanwhile, at Miss rabbit's 10,000 jobs
Miss rabbit: I CAN'T BELIEVE THIS NAPKIN!
Back at peppa's house
-Peppa and Georgedactyl are fighting over who can destroy the ceiling-
Peppa: I CAN DO THAT. HOLD MY JUICE
Georgedactyl: MY JUICE CAN DO THAT. HOLD ME
Peppa: MY HOLD CAN DO THAT. JUICE ME!!!!!!!!
Every character in the whole Peppa Pig series: O_O'
Peppa: [blasts ceiling with laser pointer and ceiling breaks into pieces]
Danny dog: [crawls out of ceiling] Oh my gosh...... After all these years.... I'M FREEEEEEEEEEEEEEEEEEEEEEEEEEEEEEEEEEEEEEEEEE!!!!!!!!!!!!!!!!!!!!!!!!!!!!!!! [runs out of Peppa's house and starts running on rooftops in a rainbow-colored princess outfit]
Georgedactyl: NO! NO! JUST STOP IT!!!!!!
Peppa: You stop it!
Georgedactyl: YOUUUUU STOP IT!
Peppa:  YOU STOP IT!!!
Georgedactyl: YOUUUUUUUUUUUUU STOP IT!!!!!!!!!!!!!!
Peppa: YOOOOOOOOOOOOOUUUUUUUUUUUUU STOOOOOOOOOOOOOOPPPPPPPP IIIIIIIIIIIIIIIIIIIIIIT!!!!! [falls backwards into a pot of gold]
Mummy Pig: Peppa! wake up! it was only a dream!
Peppa: [gasps and then she's awake] Oh, thank goodness!
Mummy Pig: [head turns around] You're adopted.
Peppa:NOOOOOOOOOOOOOOOOOOOOOOOOOOOOOOOOOOOOOOOOOOOOOOOOOOOOOOOOOOOOOOOOOOOOOOOOOOOOOOOOOOOOOOOOOOOOOOOOOOOOOOOOOOOOOOOOOOOOOOOOOOOOOOOOOOOOOOOOOOOOOOOOOOOOOOOOOOOOOOOOOOOOOOOOOOOOOOOOOOOOOOOOOOOOOOOOOOOOOOOOOOOOOOOOOOOOOOOOOOOOOOOOOOOOOOOOOOOOOOOOOOOOOOOOOOOOOOOOOOOOOOOOOOOOOOOOOOOOOOOOOOO!!!!!!!!!!!!!!!!!!!!!!!!!!!!!!!!!!!!!!!!!!!!!!!!!!!!!!!!!!!!!!!!!!!!!!!!!!!!!!!!!
George:HAAAAAAAAAAAAAAAAAAAAAAAAAAAAAAAAAAAAAAAAAAAAAAAAAAAAAAAAAAAAAAAAAAAAAAAAAAAAAAAAAAAAAAAAAAAAAAAAAAAAAAAAAAAAAAAAAAAAAAAAAAAAAAAAAAAAAAAAAAAH!!!!!!!!!!!!!!!!!!!!!!!!!!!!!!!!!!!!!!!!!!!
Peppa:LOL
(George Explodes)
(Peppa Explodes)
[end]