Peppa and her family go for a day's cycle ride. Peppa rides her little bicycle, while Mummy and Daddy Pig ride their tandem with George on the back. Peppa loves cycling downhill but is not so keen on peddling uphill, so she insists they should have a downhill race.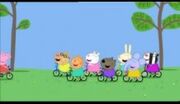 But will they ever avoid the pumpkin that's in the way?
Ad blocker interference detected!
Wikia is a free-to-use site that makes money from advertising. We have a modified experience for viewers using ad blockers

Wikia is not accessible if you've made further modifications. Remove the custom ad blocker rule(s) and the page will load as expected.