Timmy Towtruck is
Grandad Dog
's breakdown vehicle.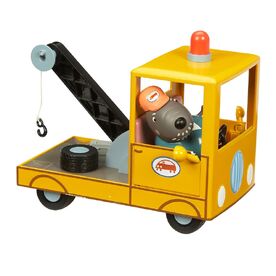 About Timmy Towtruck
Timmy is Grandad Dog's tow truck. He is based on a 1973 Chevrolet pickup truck and he can also help other cars from breakdowns and trouble. He and Benny Boat get into fights sometimes (just like Grandpa Pig and Grandad Dog) about who's the best speedy vehicle in Peppatown. It reveals that Dr. Hamster rings Grandad Dog to rescue Tiddles. But Timmy's driver got stuck up the tree, along with Mrs. Cow and Mummy Elephant in "Naughty Tortoise". He is best friends with Skids (just like Peppa and Suzy are best friends).
Trivia
Ad blocker interference detected!
Wikia is a free-to-use site that makes money from advertising. We have a modified experience for viewers using ad blockers

Wikia is not accessible if you've made further modifications. Remove the custom ad blocker rule(s) and the page will load as expected.