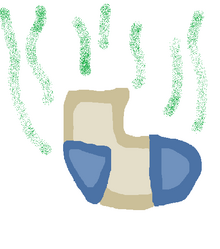 Tobias' Stinky Sock is a dirty sock that belongs to Tobias Pig.
Looks
The sock is a white sock with a blue toe and heel.
Appearances
The sock appears lying on the ground every time Tobias' room is shown. Its distinct roles were in Hypnothermia, where Tobias put it in Peppa's cereal, and The Dreaded Drought, where Tobias suggested that the mud monster should eat it. It also appeared in Emily Hates Freddy, when Freddy mistook its smell for Emily. It also appeared being worn with its matching sock in Tobias Gets Sent to Playgroup.
Ad blocker interference detected!
Wikia is a free-to-use site that makes money from advertising. We have a modified experience for viewers using ad blockers

Wikia is not accessible if you've made further modifications. Remove the custom ad blocker rule(s) and the page will load as expected.