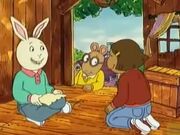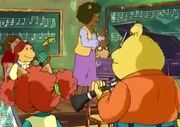 Plot
Madame Gazelle is taking her students on an excursion to Elwood City by plane. George Pig is very excited as he loves planes. It's a long flight from Britain to America, so Peppa decided to read a brochure of Elwood City Madame Gazelle dropped. Peppa was very interested and, after the night passed by, looked over the place with excitement. They rode to Lakewood Elementary School by bus. In the hall, the students played the Peppa Pig theme song. They then went to Elwood City Preschool to see what playgroup-like attractions were like in America. Next, they bought some toys from TOYS as souvenirs. Next, they went to the Sugar Bowl for ice cream. After that, they walked past the park where Arthur's treehouse is located. Arthur, Buster and Francine were in there and spotted Madame Gazelle and her class, the 'special British guests'. Madame Gazelle asked if the kids could have a buddy each and they agreed. Peppa was with Francine, Danny was with Arthur and Pedro was with Buster. Pedro and Buster talked about aliens and superheroes, Danny and Arthur general things and Francine and Peppa cool but girly things. After that, they went to the Mill Creek Mall to learn about malls as shops in the UK are just separate. The episode then ends and a card saying 'To Be Continued' comes on, indicating that there is a second part.
Ad blocker interference detected!
Wikia is a free-to-use site that makes money from advertising. We have a modified experience for viewers using ad blockers

Wikia is not accessible if you've made further modifications. Remove the custom ad blocker rule(s) and the page will load as expected.