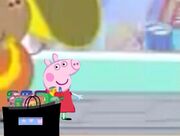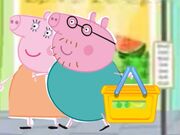 Plot
The Pig family had come to the time of the year where they had to go shopping. They decided to take the bus to the music shop bus stop, and could shop in each local shop they needed. First, they went to the food shop and bought breakfast cereal, potatoes, chicken, broccoli, ice cream, spaghetti, jelly and fruit juice. They then went to the music shop to buy Peppa a drum and George a triangle so that they could contribute to the music festival coming up in 8 days. The family had broken four china cups they drink out of a lot, so they went to Miss Rabbit's china shop to get them fixed. Peppa then bumped into the bus timetable sign. Mummy Pig took her to the optician's and her eyesight was perfect. Mummy Pig also took Peppa and George to the dentist to get their teeth looked at. Lastly, they went to the toy shop to let Peppa buy herself and George a few toys. Peppa bought a toy train, a toy aeroplane, a toy truck and some building blocks. Then, the narrator says, "Peppa likes trips to her local shops. Everybody likes trips to their local shops".
Ad blocker interference detected!
Wikia is a free-to-use site that makes money from advertising. We have a modified experience for viewers using ad blockers

Wikia is not accessible if you've made further modifications. Remove the custom ad blocker rule(s) and the page will load as expected.