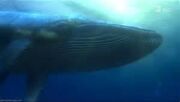 The Whale is a blue whale in the film Finding Nemo and made it's debut in "A Whale of a Tale", They eat krill.
In the Whale's debut episode, Peppa Pig, George Pig, Suzy Sheep, Tobias Pig, Daddy Pig and Mommy Pig were in the beach, but the Whale accidentally swallowed Daddy Pig, and Peppa Pig venture out in the Whale's blowhole to rescue Daddy Pig.
Ad blocker interference detected!
Wikia is a free-to-use site that makes money from advertising. We have a modified experience for viewers using ad blockers

Wikia is not accessible if you've made further modifications. Remove the custom ad blocker rule(s) and the page will load as expected.